Valentines' Day is just around the corner so make sure you're ready to celebrate it with your loved one. Celebrate the holiday with your handmade crochet garments or come cuddle with your partner under a crochet blanket with the help of these free valentine crochet patterns using Red Heart Yarns.
Make your own colorful hearts mobile with the use of Red Hearts Yarns. This pattern has the skill level of easy which is perfect for those who don't have a lot of experience when it comes to crocheting. Impress your loved ones or your kids with this mobile which is perfect as a décor or as a toy from your kids during the holiday of love.
Don't let your table be dull and boring on hearts day. Add a little romance to your meals with these crochet heart coaster which is easy to make. Make them in the traditional pink and red colors or do some changes you desire and make them into different shades of yarn that you like. It's a perfect Valentines' day gift for your family and friends who you sincerely care for.
Make your drinks warmer with this mug hug that is designed to help you express your warm love for your partner and loved ones. Send some to your loved ones and make them feel the warmth of your feelings for them. This free crochet pattern is easy to make and is perfect for those who are not much experienced with crocheting.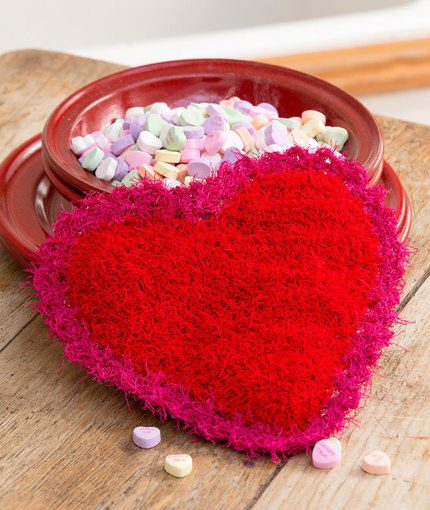 Always remind your loved ones that they are loved by you even when they are doing their dishes or when they are bathing with this heart scrubby. It's a great gift which is easy to make even by not-so-experienced crocheters. Choose from a variety of colors and shades of Red Heart's Scrubby Yarn or stick with the traditional shades of red.
Come snuggle with this faux fur heart during the Valentines' with your loved one or make your far away loved ones and friends feel your love from within your heart by making this crochet heart pillow. Use it as part of your house decoration on Valentines' day or as a throw pillow in your living room or kitchen. Choose from a wide range of fur colors to make it more exciting and vibrant. This pillow is easy to crochet and is perfect for those with little experience.
Whoever said that crochet jewelry is difficult to make is wrong. Celebrate Valentines' day with the love of your life or with your family while dressed up in your holiday attired and wearing these handmade heart earrings. With a little yarn and a little time to prepare, you can already show it off to the world. These are perfect for any occasion, but especially nice to give as a Valentine's Day gift.
Love doesn't necessarily have to only be in the air. Show off the love through your crochet cowl with heart patterns that is perfect for the season of love. This intermediate skill level crochet pattern is perfect for those who want to dress up for the holiday while keeping themselves warm and also not ruining their fashion sense. Stick with white and red or experiment with different yarn colors to make it unique and more vibrant in expressing your feelings.
You will surely fall in love with this free crochet heart pattern which perfect for the season of love. Make your own cleverly designed cabled heart hat that you will surely wear in a lot of occasions or gift it to your loved ones to express your love and care for them during Valentines' season. This pattern requires quite a bit of experience and will require patience and effort to finish.
Don't let your babies miss out on celebrating Valentines' day. Make your kids feel your warm feelings of love and care for them with a sweet, lacy, heart designed blanket. With Red Heart Yarn's Soft Yarn, you'll be able to provide them with a soft and washable blanket that will surely stay with them for a long time. This crochet valentine blanket is as charming as it is usable.
The well-known match maker isn't always a baby flying around with arrows and shooting the hearts of couples. Sometimes, it's a cute little pig with wings. You can turn the matchmaking pig with wings with the help of this free crochet amigurumi pattern. Shoot the hearts of your family and friends with this cute little pig when you make it for them and send it to them as their Valentines' gift.