Easter is a celebration of the season of spring and all the new life and beginnings it brings. This is also a good time to invest your time doing DIY crafts for yourself or your loved ones. No wonder a lot of people all over the world are getting busy crocheting or knitting Easter items as the event nears.
American Yarns Australia has gathered the nicest free Easter crochet patterns and Easter knitting patterns that you can create even at the last minute!
…And yes, they're more than just Easter eggs and Easter bunnies! Check them out!
Crochet Easter Eggs
Love surprises? Then this Easter Egg Pattern is for you! Anyone won't guess that you're hiding Easter chocolate or candy in here. Just pull the ribbon closed and nobody will ever find out that easy! You can then put the eggs together in a bowl or hang them for that decorative feel.
Dino Egg Cozy
Who says Easter is all about bunnies and chickens? Well, dinosaurs are in for the spring fun too! Watch your kids go crazy when you slip a Dino Cozy on their egg for breakfast.
Egg Holder Easter Flower Pattern
You will want this rare Easter Egg Cozy pattern around your kitchen as an Easter table centrepiece or everyday egg cozies. The decorative flower around the egg cozy makes it super chic!
Hatching Easter Chick
Chicks and eggs definitely are perfect Easter combo. The good news is you can have these two in one pattern! Get the Hatching Easter Chick Pattern FREE Pattern.
Easter Bunnies
The Easter Bunny is definitely the most classic symbol of the season. To make Easter more fun and colourful, you can create amigurumi bunnies of various pastel colours using this FREE Pattern.
Little Bunny Basket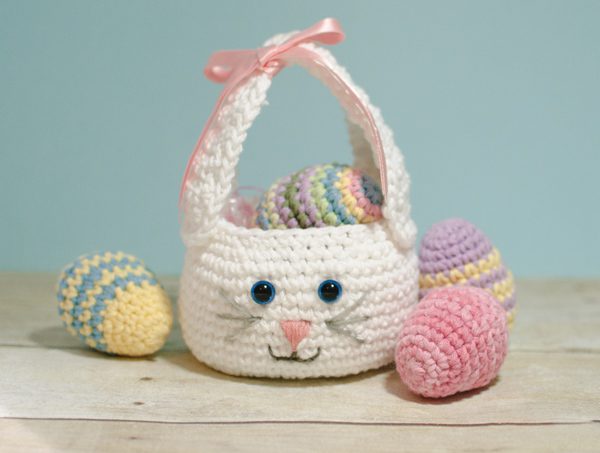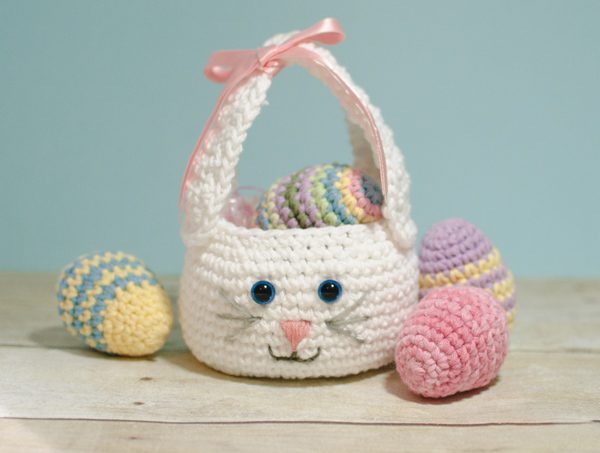 If you are wondering about a cute way to give out Easter treats, then this Little Bunny Basket Pattern is certainly what you need! This pattern is very quick and easy to do, plus it features bunny ears that also work as a handle. You can play with your choice of embellishments and features of your bunny's face. You can also opt to put in crochet Easter eggs for display purposes. The kids will definitely love to grab their treats once they see this cute bunny basket.
Bunny Beanie
Is your little one celebrating his first Easter? Then this Bunny Beanie is definitely a great way to let him hop in the fun (though he still can't join the egg-hunting)! Check out this simple Bunny Beanie Pattern FREE Pattern.
Floppy Bunny Ears
This is a very easy Easter knitting pattern that can finish in a day. Get ready for Easter with this cute bunny hat and matching diaper cover!. Start creating your own Floppy Bunny Ears now so you can crochet a wonderful Easter present in time. This is also a perfect giveaway new mothers.
Spiral Easter Egg
This is another perfect last-minute Easter knitting pattern as it is super easy to do. Wrap a ceramic egg or a real egg and nobody can tell the difference. We just love this simple Spiral Easter Egg Pattern for decorative purposes.
Pet Pal Bunny Slippers
Want something new for Easter treats besides Easter baskets filled with candies and chocolates? We suggest giving this Pet Pal Bunny Slippers a try! Treat a kid to a warm feet this Easter season and s/he surely will love it. No worries, this knitting pattern won't take long to make.
Henry's Bunny
Of course, bunnies will always be in for the Easter. Knit a super easy yet cute one using Henry's Bunny Pattern to make it in time for the Easter.
Cuddly Blankie
Keep your baby warm this Easter with this Cuddly Blankie Knitting Pattern. This pattern is originally in Norwegian language and is fortunately translated to English for everyone's use.
We're so sure how agitated you are right now to begin making one or all of these Easter crochet patterns and Easter knitting patterns just in time for the season. What are you waiting for? You still have enough time to celebrate the season with your handcrafted decors and treats!