Easy crochet baby dress patterns for beginners. Here is a short collection of cute and fabulous crochet dresses for babies. If you've never tried crocheting or knitting a baby dress because it seems to be complicated then think again because here are some of the easiest and gorgeous crochet baby dress patterns:
1. Crochet sleeper suit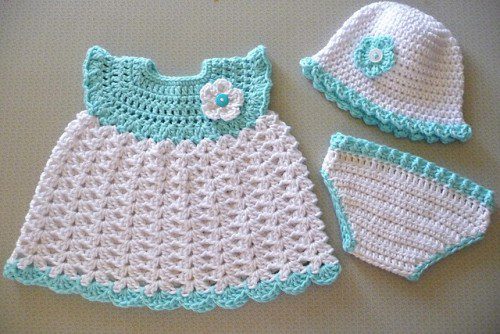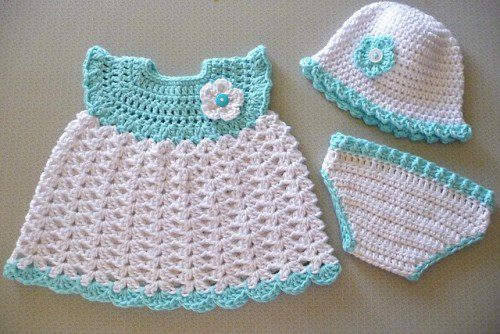 This crochet sleeper set by Abigail Goss of Crotiques is intended for newborn babies up to three-month-old infants. The size can be altered to fit older babies but that would require a bit of an advanced knowledge in crocheting baby dresses. It's quick and easy to make and has a simple design which makes it pretty. This is ideal for beginners who want to practice their way into the next level of crocheting baby dresses. The pattern comes with a sweet little hat and bloomers which makes it a complete set. Pattern by Abigail Goss, can be downloaded for free from Ravelry.
2. Robe Clara knitted dress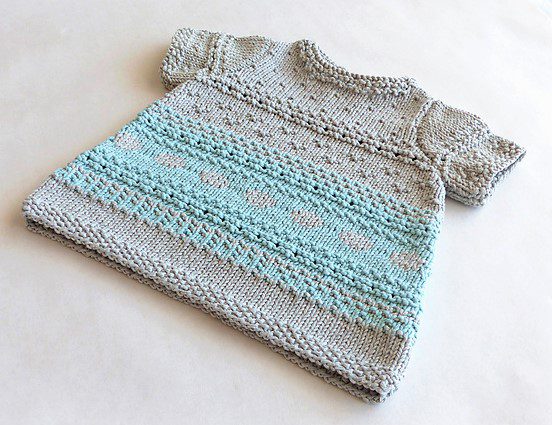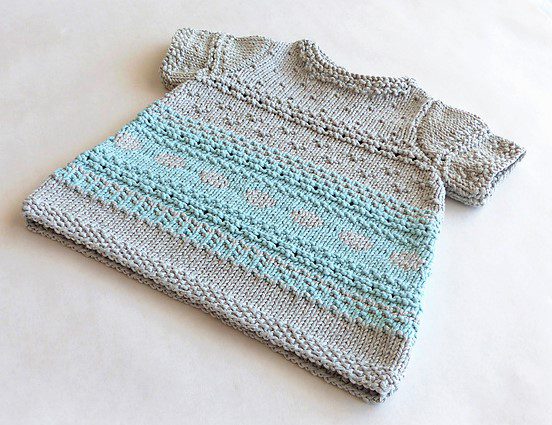 One for the clever knitters, the beautiful and very versatile Robe Clara dress pattern is free and available via Ravelry designed by Elena Canon. All you need to do is simply click on the links we have supplied above, and it will take you straight to Elena's Ravelry page where you will have access to the pattern. This pattern does recommend using a brand of yarn from the UK which we do not stock so American Yarns would like to suggest using the beautiful  Lily Sugarn Cream as a great substitute for this project. Lily sugar n cream is a natural, soft, absorbent, pure cotton. It is an excellent quality cotton and comes in a wide range of bright, vibrant, pastel, neutral colours.
3. Overall Dress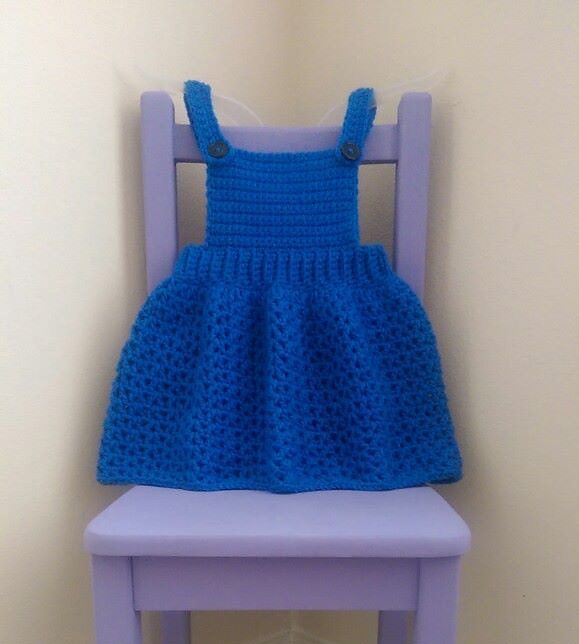 This easy sweet little pinafore overall dress is the perfect addition to add to your little girl's wardrobe. With a long sleeve top underneath and some tights and boots, your little one will be ready to rock this coming winter. This pattern is available to download for free via Ravelry, courtesy of Dorianna Rivelli from The Lavender Chair. We recommend using Red Heart Super Saver for this project which comes in a great range of colour variations and has a fabulous wash performance making it a great choice when making children's clothing as we all know how grubby they can get.
4. Knit Colour Block Cross over top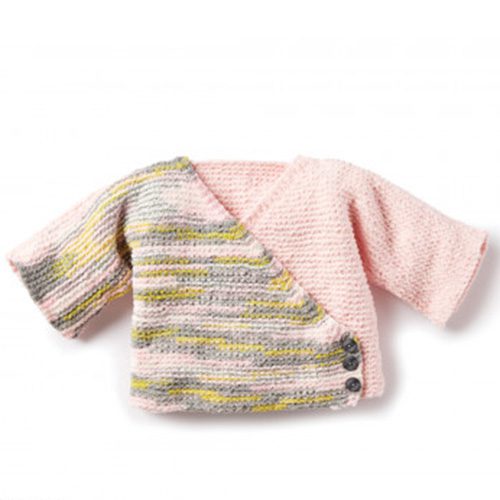 This wrap, crossover top is a sweet new design that will become a staple in your little one's wardrobe. To knit this cross over top/cardigan, Yarnspiration has this pattern available for you all to download for free. This gorgeous design is easy to knit and the instructions Bernat supply for the pattern are easy to read and follow. Recommending the beautiful Bernat Baby Blanket Tiny yarn for this project which is available in 16 bright, vibrant, soft pastel colours including striping variations you will not be disappointed to how this top turns out.
5. Angel sleeve dress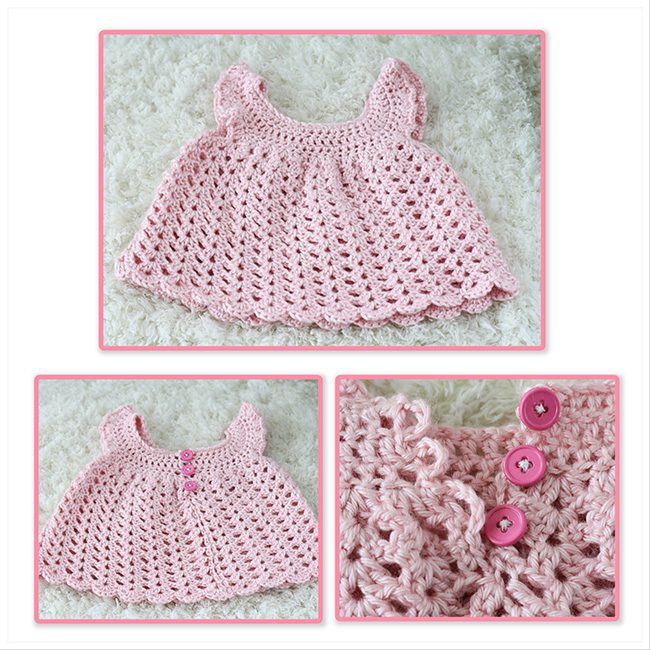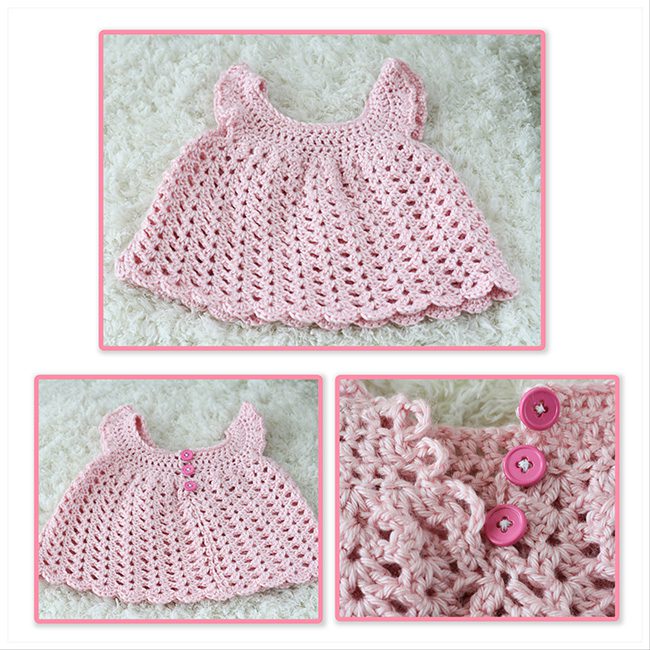 This is another easy baby dress pattern. It's very easy and quick, making it perfect if you want to try crocheting a baby dress for the first time. The pattern is based on infant sizes, but this pattern was made so it was easy to adjust the size of the dress. Other than being an easy baby dress, it could also be a gorgeous crochet dress for a toddler. The pattern, yarn recommendations and tutorial can be found here From Bev's Country Cottage.
6. Bumble Bee Dress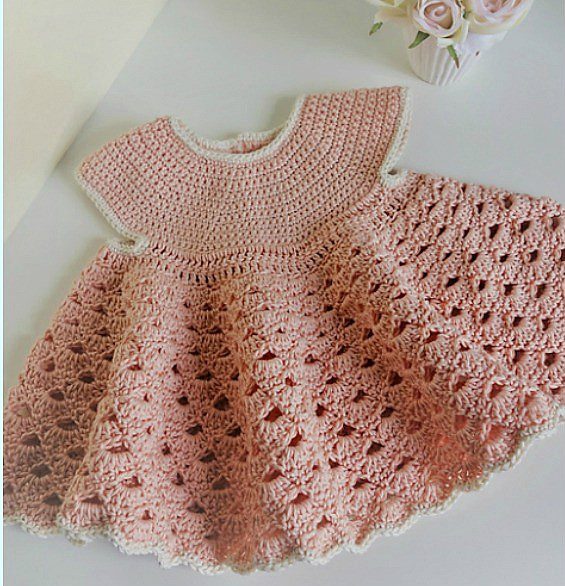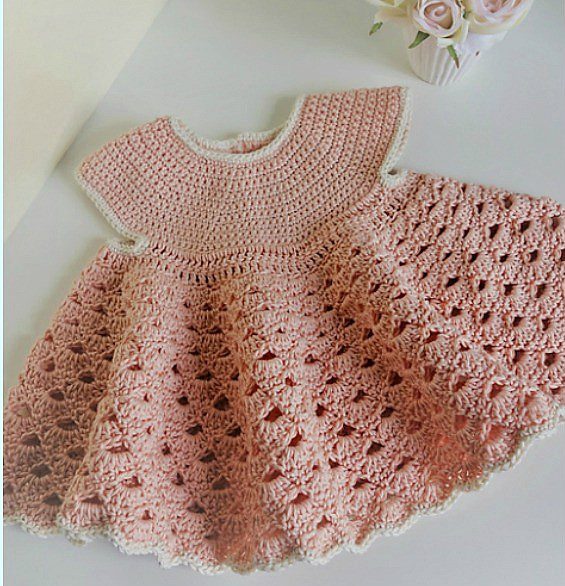 This cute little dress is simply beautiful and easy for you to make your baby girl or give as a gift for a special little one. The pattern is designed by Sandy Furlough and is available for free from Ravelry. We recommend you use Lily Sugar n cream yarn as it soft and 100% cotton making it gentle on your baby's skin. It comes in a wide range of bright, vibrant, pastel, neutral colours and is available here.
7. Crochet Baby Romper Free Pattern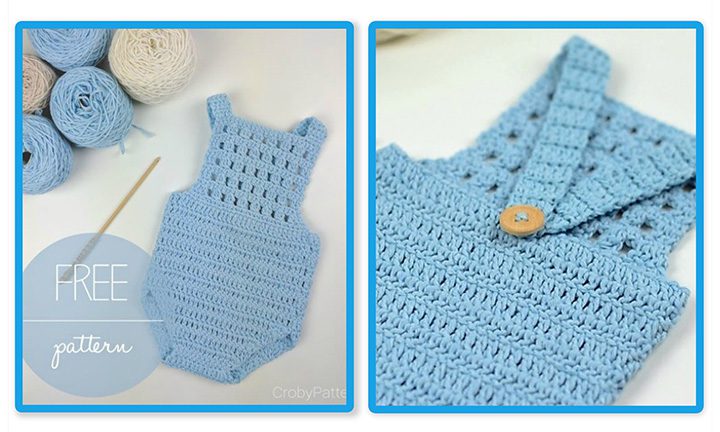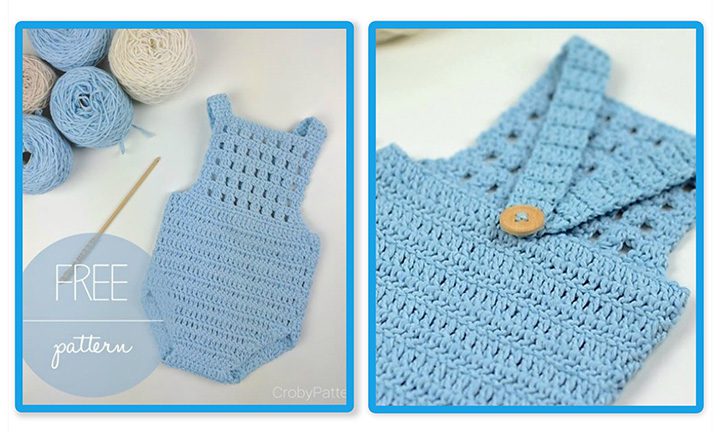 How divine is this gorgeous little ones romper designed by the very talented Doroteja from Croby Patterns. This romper is easy and quick to crochet and can be customized in any colour you like, from summer brights to dark winter neutrals. We recommend using either Caron cotton cakes which are 60% cotton and 40% acrylic blend or the Lily sugar n cream which is 100% Cotton for this romper. Doroteja has a video tutorial for this free pattern which is easy to follow and very helpful if you are just starting out. Please follow the link here and it will direct you straight to where you will find the pattern for you all to enjoy making.
8. Cosy Crochet Hoodie
Crochet a Cosy Crochet hoodie in the beautiful Bernat Softee Baby topped with a sweet pom pom on the hood. This gorgeous hoodie will be perfect to snuggle up your little ones, especially as the cooler months are fast approaching. The free pattern is designed and is available in a range of sizes, simply click on the yarnspiration link found here and it will take you straight to the pdf version of this pattern for you to begin and enjoy.
9. Bernat Top Down Cardigan
Knit this darling cardigan in your favourite colour of Bernat Softee Baby, and get the free pattern from here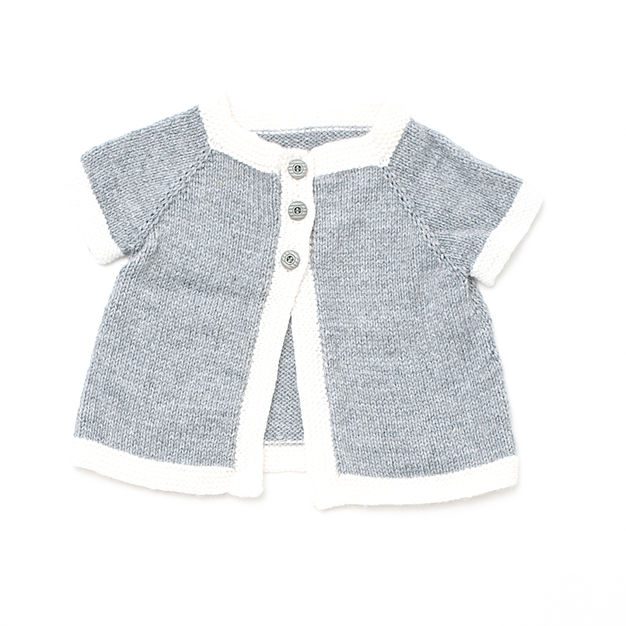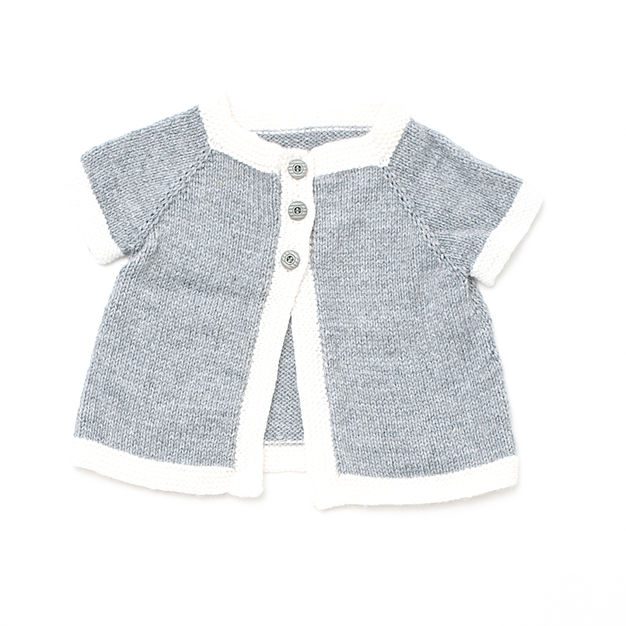 10. Pull over baby dress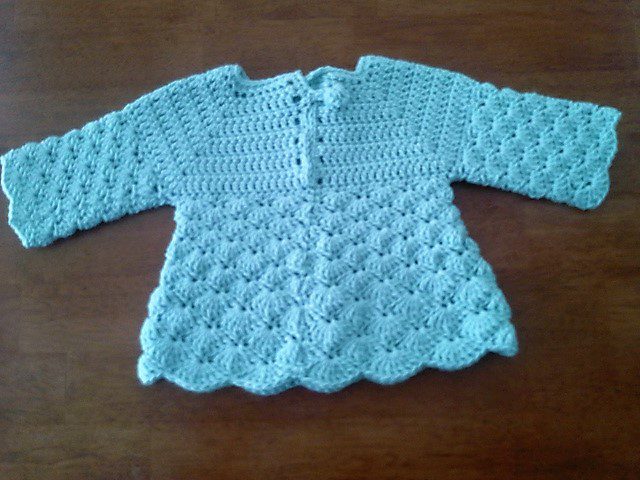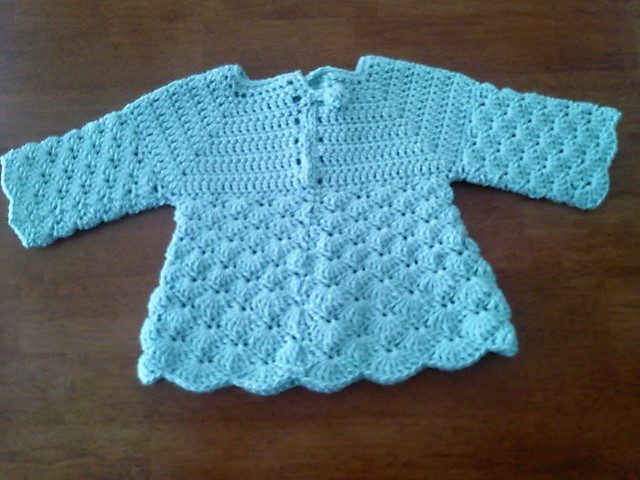 This easy to make Warm Shells Baby Pullover by Michele Denise from ravelry is available for free. It has a simple raglan yoke, a baby-safe neckline fastener, and warm textured shells for the body and sleeves. We recommend you use any of the 10ply yarns suitable for your little one. For a striping colorway look why not try using Caron baby cakes in a great range of soft pastel colours or Caron simply soft. Currently, this pattern comes in only one size (3-6 months) and there are two options for this written pattern. A concise version, and a row-by-row check-off version. There is also a simple chart designed to support either version of the written pattern and the photo was supplied by kimanneberly.