Ponchos are the perfect garments for just about any season or weather. With winter coming close, it will add up an extra layer of warmth to keep the cold away. With crochet ponchos making a comeback, you can try to make one for yourself with some of these crochet poncho patterns.
1. Mosaic Sunset Poncho
This intermediate crochet pattern is simply worth the time and effort you've allotted when it comes to the stylish and trendy look it gives off once you've finished it. It's the perfect pattern for you if you want to have a bright and colorful piece of clothing to match the spring season. With the colorful vibes during the spring and summer seasons, this is definitely the perfect poncho during those times.
Link to the pattern
Materials:
2. Lacey Spiral Crochet Poncho
This spiral poncho is perfect for any season. While working up with crochet pattern you'll notice that you'll be making a continuous spiral and you'll be working it around without a join which makes it easier for those who are relatively new to crocheting. This pattern would fit most adult women.
Link to the pattern
3. Multicolored Poncho
Multicolored stuff has been a thing for a while now and it has also taken up the poncho designs. With this multicolored poncho pattern, almost no woman would ever say they don't want to get their hands on one. This versatile patterned poncho can be worn on almost any occasion with any clothing you would want to match with it.
Link to the pattern
4. Chic Cowl Neck Poncho
With this bulky transitional poncho, you'll be able to easily transition from the cold winter to the warm and fresh spring season. It's really quick and easy to work with which is perfect for those who haven't been crocheting for a long time. It looks good with any shirt or tank top you wear and would keep you warm until the cold season is over and the summer warmth begins its comeback.
Link to pattern
5. Swanky Crochet Kaftan
This kaftan is a lot similar to a crochet poncho but is a bit longer and gives a more free-spirited feel compared to the usual ponchos. You can wear it in just about any occasion even if you're transitioning from a pool party to a formal evening dinner. You will be comfortable and stylish at the same time while wearing this kaftan.
Link to pattern
6. Cozy Tweed Poncho
This poncho pattern is known as one of the all time favorite patterns of many crocheters because of being irresistibly warm. You can wear this poncho with just about any top you wear, whether it's a shirt, a long sleeve shirt, a lightweight sweater or whichever you desire. The cowl on the neck makes this poncho perfect for the fall and winter seasons.
Link to pattern
7. Effortlessly Chic Poncho
With a bit of effort, you'll be able to make this easy poncho pattern in no time. The great thing about ponchos is that they can layer over shirts and even wear them under big coats during the winter season or just about any time of the year. The bright colors and stripes would definitely give off a refreshing effect on your wardrobe.
Link to free pattern
8. Bernat Perfectly Patternet Poncho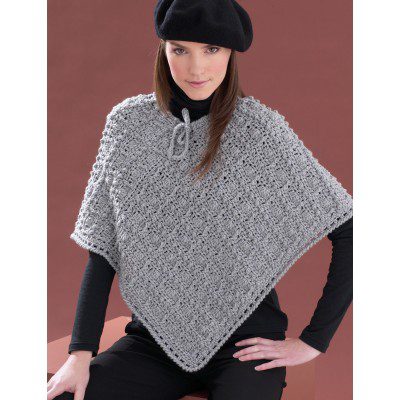 If you love Paris and would love to have something in your wardrobe that would definitely give off the refined and elegant French look, this poncho is a perfect way to express that. This intermediate crochet poncho pattern is the perfect attire to wear during an evening out or simply a casual stroll on the street.
Link to free pattern
Yarn: Bernat – Super Value Yarn Clay 2-3  skeins